First of all, I'd like to take the opportunity to introduce myself since this is my initial foray as a book reviewer. I was born and raised here in our proud community of Greenville. 
I'm an author, songwriter and poet working with Black Rose Writing of Texas. I'm also a father, grandfather, avid reader and Friday night karaoke addict. If you're still reading this column after the introduction, then perhaps you'll allow me to entertain you on a weekly basis when it comes to my opinion on certain books.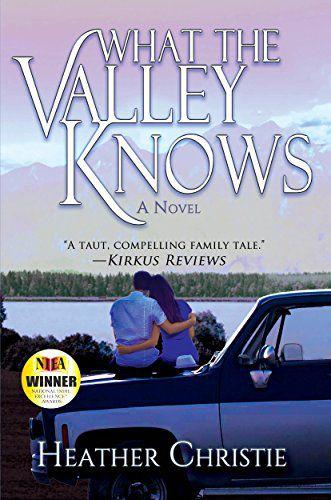 In this new weekly Herald-Banner column, I will be emphasizing reviews and mentions of Texas authors' works (especially those with ties to Hunt County and the surrounding area) and lesser-known indie novels. I have a soft spot for Texas authors, books, and publishers – and an even deeper love for local artists.
For this first review, I bring you a recently discovered gem titled "What The Valley Knows" by Heather Christie. This book recently won the National Indie Excellence Award in the Young Adult Fiction category.
From the book's synopsis: Millington Valley is a quintessential small Pennsylvania town: Families go back generations. Football rules. Kids drink while adults look the other way. High school is a whirlwind of aspiration and rivalry, friendship and jealousy.
When smart and pretty Molly Hanover moves to town and attracts the attention of the football team's hero, Wade Thornton – a nice guy with a bad drinking habit – longtime friendships are threatened and a popular cheerleader tries to turn the school against Molly.
The young couple's future is shattered when Wade, drunk, wrecks his truck and Molly is thrown through the windshield. She wakes from a coma to find her beauty marred and her memory full of holes. As she struggles to heal, she becomes sure that something terrible happened before the accident. And there is somebody in the valley who doesn't want her to remember.
Thanks to growing up during what I consider to be Stephen King's best years, my personal choice of reading material is typically dark fiction or horror. Despite the fact that I rarely look twice at a book from the Young Adult Fiction section, I gave this one a shot due to the internet hype and the Indie Excellence Award. 
I'm glad I did.
Even though I'm well into my adult years now, this story grabbed hold of me immediately, sparking my own memories of high school awkwardness. Christie's words had me feeling like a 16-year-old again as I read, and – depending on the reader's upbringing – that can be enjoyable. I saw little pieces of myself in more than a few of the characters, both smiling and cringing regularly with nostalgia from cover to cover. 
The genre-appropriate suspense never let up – whether it involved something as trivial as a date between the two main characters or Molly's healing process from the accident. Also, the town's love of their high school football team felt very familiar. (Go Lions!)
"What The Valley Knows" could easily become a high school classic if it continues to receive the exposure it deserves. Although the targeted audience is young adults, I think readers of any age would enjoy this. 
I recently had a phone conversation with the author at her Pennsylvania home to learn more about the book, which is her debut novel.
 "I wanted to talk about the worst thing that could happen to a teenage girl in our image-driven society" Christie explained when discussing how she derived the plot. "I mirrored Millington Valley after my own small hometown, and I even based the cheerleader character on a personal bully from high school."
Christie, a wife and mother who lives in Reading, Pennsylvania, earned her master's degree in creative writing. For "What The Valley Knows," she pulled influences for her characters from the conversations and personalities of her own teenage children as she penned the stories over a period of eight years, she said.
What is the Texas connection? Although Christie resides on the east coast, she is somewhat familiar with Greenville and the region. She attended UT Dallas, and her husband is a former professional soccer player for the Dallas Sidekicks. Christie is now wrapping up her second novel.
• • •
Coming next Sunday in the Herald-Banner: A review of an author based in Hunt County.
C. Derick Miller is an author, songwriter and poet born and raised in Greenville. A father, grandfather, avid reader and Friday night karaoke addict, he has a soft spot for Texas authors, books and publishers – and an even deeper love for local artists. Miller is the co-founder of the Hunt County Writers' League. To suggest a book for reviewing, to inquire about Miller's own published novels, or for information about the Hunt County Writers' League, email Miller at gonzowolf37@gmail.com.