As every working musician knows, bands rarely remain the same for long, particularly when the members are "grown ups" – i.e., they have careers, families, and responsibilities at home.
The more dramatic band break-ups among the "rock star" groups often make headlines with scandalous stories of disagreements between members or worse.
But in real life, there are far more musicians who live relatively "normal lives" and they play gigs within close driving distance of home on the weekends.
In real life, most of these local musicians don't have giant egos (see: Kanye West, Justin Beiber, Axl Rose, Bono…); they aren't hotel-room-destroying party animals (see: Keith Richards, Keith Moon, Scott Weiland, etc.); and they don't get in fist-fights or public feuds (see: Simon and Garfunkel, Oasis, Pink Floyd, Beach Boys…).  
In real life, band members tend to feel like brothers (or sisters). And in real life, tragedy strikes bands just like it strikes the rest of us.
Case in point: Hunt County-based 8 Bore, a rock and roll band founded last summer by Greenville native Tommy Cross, an alum of Rockwall-based country-rock act Whiskeyhat. 8 Bore plays a wide mix of popular covers – classic rock, country, even a little classic soul and R&B – that Cross likes to call (in a nod to his home terrain) "black dirt" country or "distorted Americana."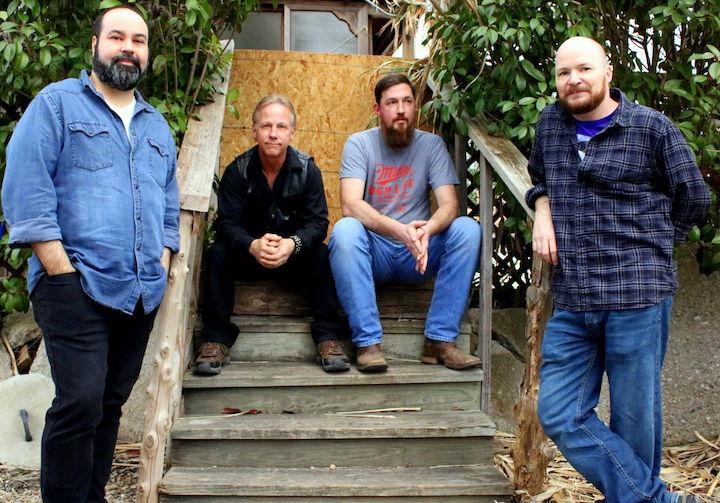 8 Bore played its debut performance this spring in West Tawakoni, and Herald-Banner A&E Contributor C. Derick Miller attended to review the show for an upcoming newspaper article and interview the close-knit members: Frontman, vocalist and guitarist Cross, his longtime friend and drummer Adam Bell, former bandmate and lead guitarist/vocalist Rick Fontaine of Rockwell, and bassist Randall Potcinske.
Shortly after – before Miller's article could be published – Bell died in a tragic auto accident near Quinlan. Bell, a native of Wills Point with a quiet demeanor and many years of experience on the drum kit, was almost 40.
Now, a month after that horrible day, Cross and his bandmates are gearing up for a special memorial performance next weekend. With a special guest drummer – a member of a chart-topping, nationally touring red dirt country band  whose name is being kept secret – 8 Bore will perform a free, all-ages show in Bell's hometown, on Friday, May 31 beginning at 7 p.m. at The Venue Bar & Grill, 816 Houston St.
In the interview with Miller weeks before his death, Bell noted that he was grateful for Cross convincing him to get back into playing music.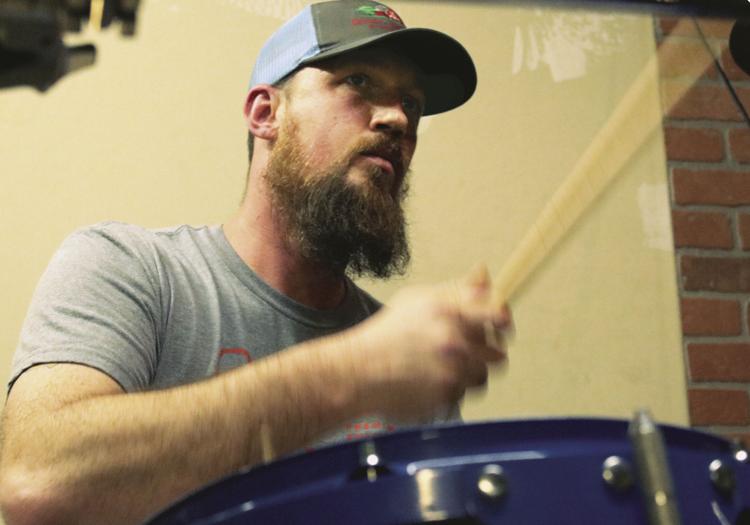 "I started playing drums because I wasn't any good at guitar," he said, laughing. "I've played in a few metal and rock bands before taking a 10-year hiatus. Somehow, Tommy Cross talked me into joining up with 8 Bore, and I love him for it."
A HAPPY BAND MAKES A HAPPY CROWD
An electrician, pecan farmer and beekeeper when not playing music, Tommy Cross, 45, owes his residence in Hunt County to none other than Greenville's legendary Jack Finney.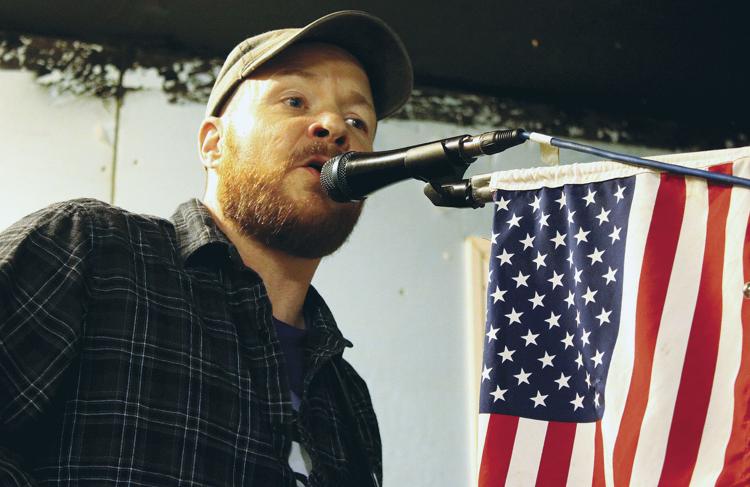 "A complete stranger by the name of Jack Finney convinced my great-grandfather to settle in Greenville while they were traveling together on a train," Cross explained. "My great-grandfather opened Greenville's first Ford Model T dealership and purchased the land for the family farm north of town. My family and I still live on and work that land to this day."
Like his bandmates, Cross has played music since childhood – he is a skilled multi-instrumentalist – and even played saxophone for the Greenville High School Jazz Band during the late 1980s and early '90s. He continued to perform in bands while enlisted in the Air Force in both Germany and Turkey but chose to sideline his musical passion so he could provide for his young family. Ultimately, it was his wife and children who convinced him to step back onto the stage.
"I would play guitar and sing my daughters to sleep every night when they were both very young," Cross recalls. "We were having dinner at the Landon Winery and listening to a live performer one night, and my kids and wife convinced me that I could easily be doing the same thing. I took it to heart. It's all history after that night. I began playing open mic shows with Charley Smith and Mike Castleberry."
It didn't take long for him to earn recognition within the Hunt County music circle – and a growing fanbase. He was approached by the Rockwall-based band Whiskeyhat to join their lineup, which where he first met fellow 8 Bore guitarist/singer Rick Fontaine. Whiskeyhat released its debut EP "El Gallo Diablo" in 2017; Cross and Fontaine departed – on good terms with the remaining members – within a year. Cross and Fontaine struck out on their own, in hopes of finding other like-minded musicians.
"We wanted musicians who were dedicated and committed, but we also wanted to be part of a musical democracy," Cross explained. "I wanted bandmates with various backgrounds and styles to come together into something special. We play music that we like. We play what makes us happy."
Enter Potcinske. He brought to 8 Bore a bass resume that includes over 20 years' of experience in rock, blues, country, metal, and even classical music.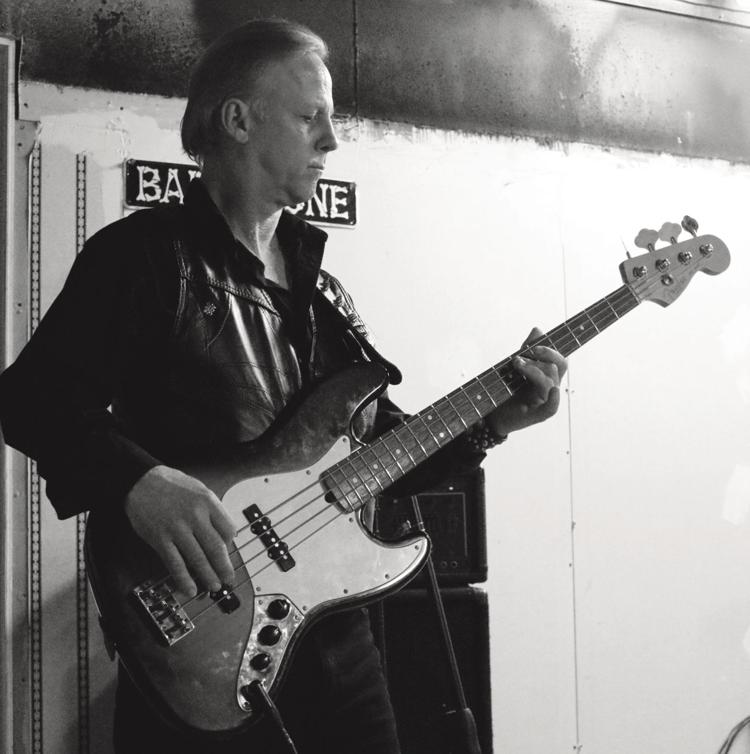 "When I was 5 years old, my father put me into music learning piano," he said. "My first lessons were home-schooled with books from John M. Williams that only cost $1.75; I learned how to read music and play piano. Soon after, I became interested in alto saxophone in Rockwall Middle School's marching band."  
As Randall aged, he began to yearn for a more "normal" life like the majority of his classmates. He gave up music to play high school football and pursued a career as a mechanic.
But it didn't take long for music to crawl back into his life, though. Potcinske began performing gigs for fun a decade after graduation; he says his love for music was too strong to ignore.
"I played in about 15 different bands throughout the '90s and early 2000s," he said. "These were not paying gigs, either. They were for the love of music. That's what my dad taught me. He was a big band musician and played sax clarinet and keys all his life. Dad made some money at it, but it was mostly for his own entertainment. It's the same for me."
Fontaine, a resident of Dallas, says his musical roots began during childhood as well. He also is an alumnus of several bands throughout North Texas, and he's contributed to several albums with those groups.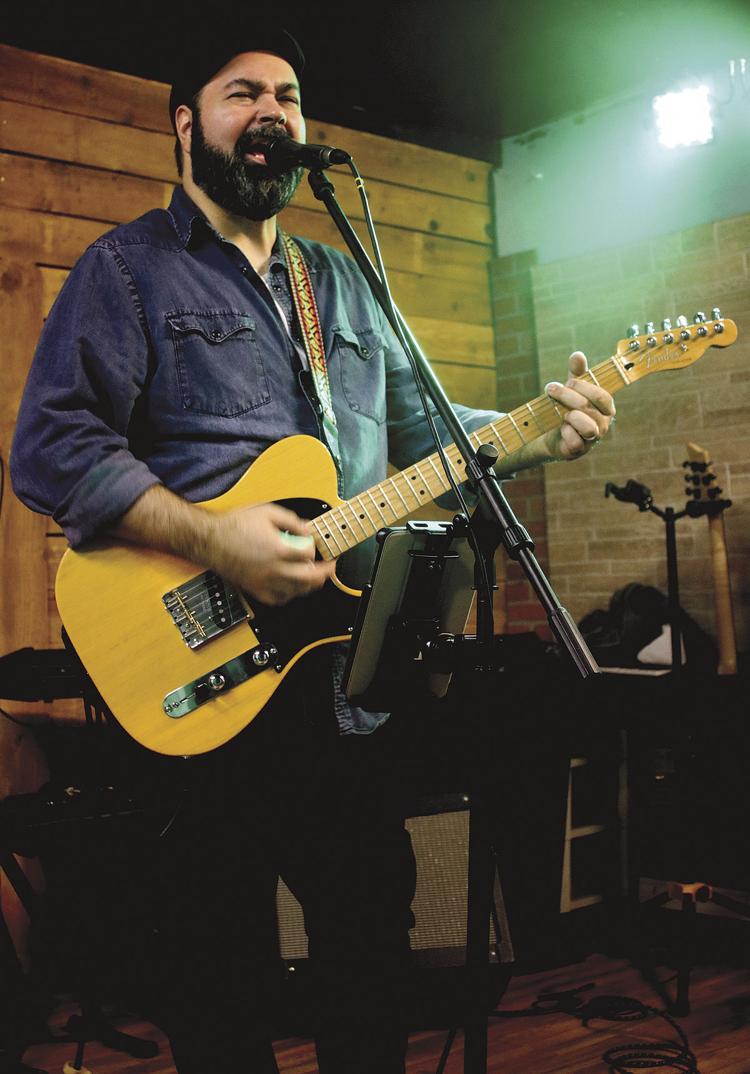 Music is his life. When he's not traveling around with friends playing music, he's in his home studio recording new music.
"The madness began when I got a guitar on my 16th birthday," he says, grinning. "But I really didn't start getting serious about learning to play until college. I joined my first band with some high school buddies called Davenport when we were in our early 20s."
Davenport played around Deep Ellum, including the legendary Club Dada, where the band was offered a residency, Fontaine explained.
"After that ran its course, I formed Back To Blue with singer/songwriter Eric Jordan. We enjoyed some mild success and were fortunate enough to be the unofficial 'house band' at the House Of Blues in Dallas, where we opened for several national acts on the main stage. We were even booked to play two nights at the House Of Blues in Las Vegas."
When that residency ended, Fontaine returned to focusing on his solo music.
"On my own, I've self-released two full-length albums. My playing has been likened in the past to Santana and my singing to Jim Morrison – I have no idea why, but I'll take it!" he says. "Personally, I think my stuff sounds more like Morrissey (if he were a Texan) fronting a Beatles tribute band with David Gilmour's second cousin playing lead guitar. These days, when life and 'adulting' permit, I keep myself busy writing and recording my own songs – but my heart truly lies in performing."
That is probably why he gets along so well with Cross, who believes firmly that a happy band makes a happy audience.
"Nothing makes a crowd happier than watching a happy band who is having fun," Cross explains. "If we play a song at a show that someone doesn't like, we simply ask that they wait for the next one. "We're humbled and privileged that we get to do this. You only get a few short years on this planet and, if you're not doing something you love with those years, they're wasted."
Herald-Banner A&E Correspondent C. Derick Miller contributed to this report.