When Hunt County native and Greenville resident William Caldwell enlisted in the United States Navy in 1942, he had no idea that the next few years as a signalman would take him around the world — and place him at the heart of the most pivotal military operation in U.S. history: the Allied invasion of Nazi-occupied Normandy.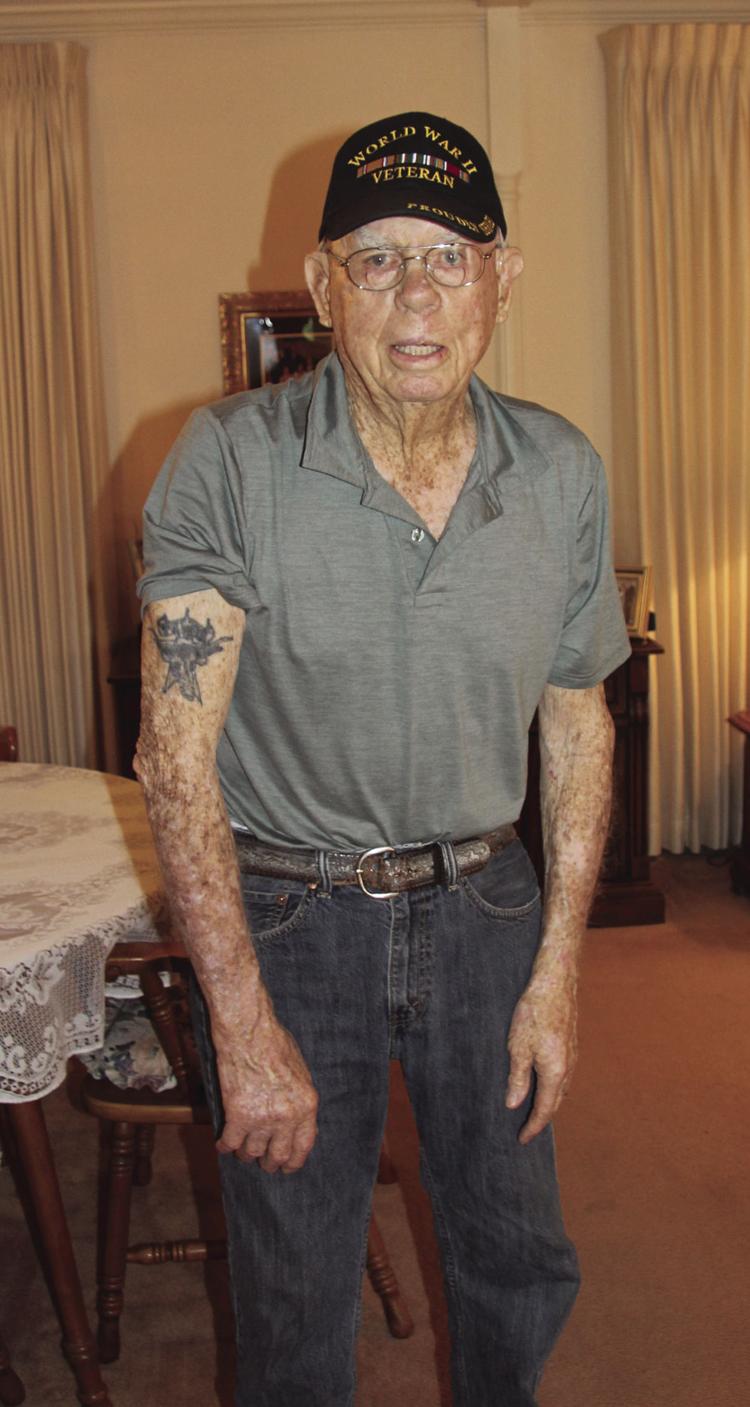 Caldwell, now 94, joined the Navy alongside a group of classmates from the small Northeast Texas town of Celeste, including C.B. Sams, Douglas Lanier, Albert Bishop and Malcolm Chaney. Caldwell's childhood friend Audie Murphy – who would become the most decorated soldier in American history – enlisted around the same time, at the same post office in nearby Greenville, but Murphy joined the Army instead.
"I was only 17 when I enlisted, so my dad had to sign my paperwork," Caldwell recalled. He still has copies of his enlistment papers, bearing his father's signature. "We were all fresh off the cotton patch – just poor country boys."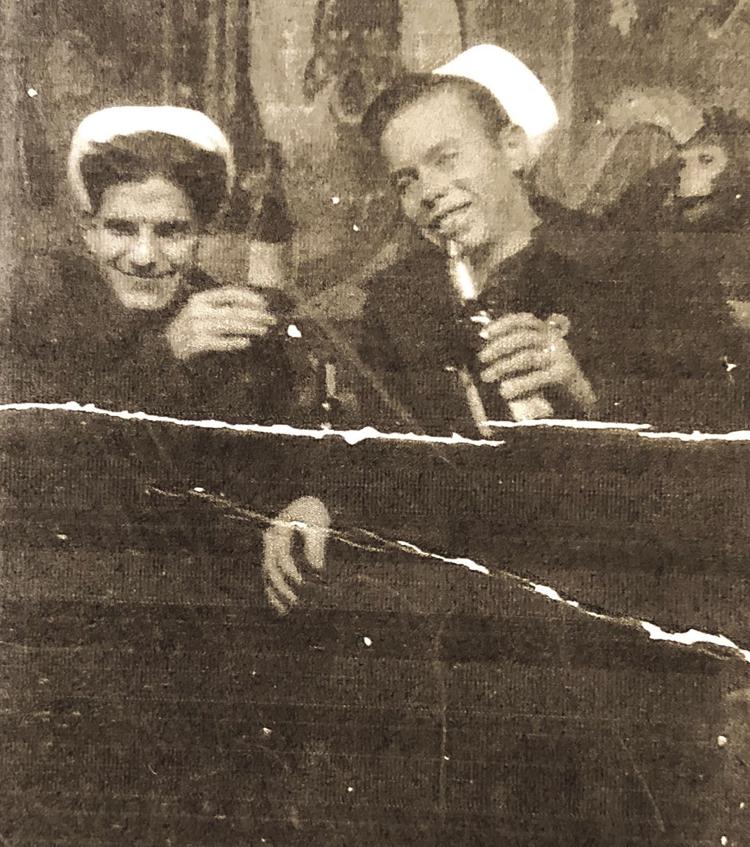 Caldwell trained as a Navy signalman – a combination of visual communication and lookout skills – but then plans for his unit to board a U.S. Merchant Marine ship changed when some of them fell ill.
"Instead of a merchant ship, we found out we were shipping off to Africa," Caldwell told the Herald-Banner. None of his shipmates were too happy with the change. While the Merchant Marine vessels acted as an auxiliary to the U.S. Navy in wartime, their new assignment was all but guaranteed to take them to the heart of the conflict.
In Africa, Caldwell continued honing his skills as a signalman, and he also found a new favorite wartime hobby: souvenir collecting. Over the course of the war, Caldwell would exchange money, food and – perhaps most coveted of all – cigarettes for all kinds of keepsakes: currency from French Algeria, Italy and France; medals and other uniform decorations from Axis soldiers; shells and ammunition; and more.
In 1943, Caldwell was transferred to a Landing Craft Infantry ship. The LCIs were homely, square-angled amphibious assault ships and would become the Allies' key avenue for invasion of Western Europe.
Caldwell's own vessel, LCI-218 captained by Lt. Harold A. Rankin, promptly headed for the coast of Italy, where Mussolini's fascist regime provided a southern blockade to prevent an Allied invasion of Nazi territory.
"I went aboard the LCI to make the landing at Sicily," Caldwell recalled. "Sicily was the hardest landing, with things flying everywhere. We got hit there pretty good."
The mortars firing on the landing craft were so intense that one breached the hull of Caldwell's vessel, near the hold where sailors were still waiting to disembark.
"One of our officers had to remove a soldier's shattered arm, and I had to find his stretcher on the beach and place his arm with him," Caldwell described. "I thought he would be dead, but he looked up at me and said 'Thanks buddy. Got a light?' That shook me up."
Over the remainder of September 1943, the crew of LCI-218 would also take part in the beach invasions of Anzio and Salerno, Italy.
It was then that the Allied focus turned westward. Less than year later, Caldwell and his comrades would be embroiled in combat on the longest day.
Invading Normandy
On June 6, 1944, Allied forces under the command of Gen. Dwight D. Eisenhower commenced Operation Overlord – the invasion of mainland France through Normandy; it was the most crucial step in turning the tide of World War II against the Nazi menace.
Approximately 156,000 Allied troops participated in the D-Day invasion, across five different beaches and a headland, and Caldwell was one of them, approaching Utah Beach in LCI-218.
"Have you ever seen the film, 'The Longest Day?' It was exactly like that," Caldwell explained. "Our landing craft took off from the battleship U.S.S. Nevada, which was shelling the beachhead from behind us. At one point, I was looking back behind me to see the ships, but my landing captain ordered me to keep an eye out for mines in the water."
As the crew of LCI-218 neared their landing position on the shore of Utah Beach, Caldwell beheld a sight that has stayed with him for 75 years since.
"The sky was dark, it was so full of airplanes," Caldwell said – even though the weather was clear that day. "The planes were headed in to give us cover from the air and to support the paratroopers who landed the night before."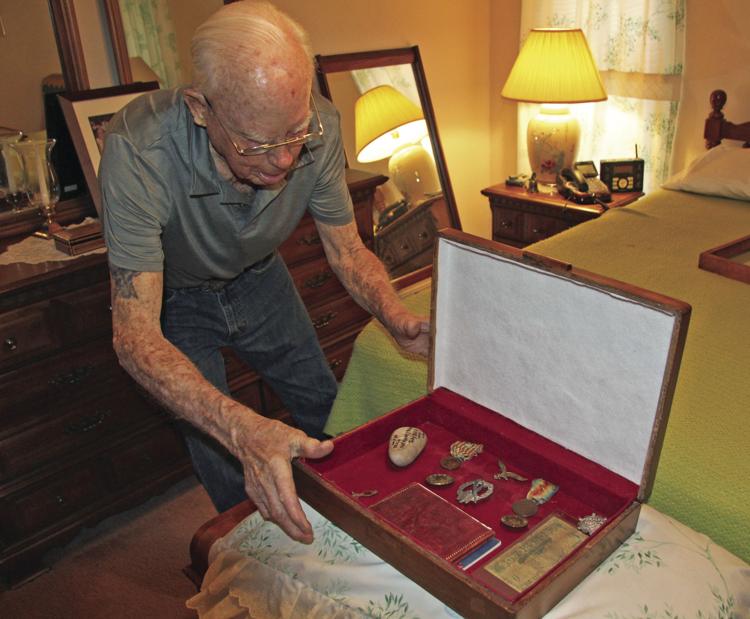 According to World War II Foundation estimates, the Allies had some 11,590 aircraft above Normandy that day.
Caldwell's primary duty until the LCI landed was to keep a lookout for underwater mines from his craft's bridge. One mine could cripple an entire landing craft and potentially kill hundreds of arriving infantrymen.
"There were just tons and tons of mines in the water, and when they hit a ship, it would just be gone," Caldwell said. "I saw one very close to us just disappear into the water – it made me wonder why we hadn't disappeared too."
By the end of the day, the beachheads were secured, Nazi cannons and large caliber gun points had been captured along the cliffs above them, and surviving German soldiers had either been captured or had retreated further inland. The Allied forces suffered more than 10,000 casualties with 4,414 confirmed dead; the German forces reported as many as 9,000 casualties from that fateful day.
But the Normandy Invasion was considered a success. The Allied forces were now within one year – and many more casualties – of winning the war in Europe.
After World War II, Caldwell went on to serve as a sailor on board ships testing nuclear weaponry in the South Pacific Marshall Islands, and then he returned home to Hunt County, married Emma Louise Horner, and eventually worked on top-secret, radar-mounted aircraft at E-Systems, now known as L3 ISR Systems. He still lives in the Greenville home where he and his wife raised their three children. 
A few years ago, Caldwell was notified that the French government had awarded him the Medal of Chevalier de la Legion d'Honneur, the highest military order in France.
"You should take great pride in knowing that the French people are forever indebted and grateful to you and your American brothers-in-arms for your most heroic bravery and dedication during World War II," wrote Sejiro Seam, then-Consul General of the French Consulate in Houston. 
"Allied cemeteries on French soil are a constant reminder of the endless debt of gratitude France owes those thousands of soldiers who were wounded or perished fighting for our freedom," the letter continued. "They were instrumental in paving the way for a free, democratic and prosperous Europe."
Still, to this day, Caldwell insists that he is not a hero – if anyone will listen. 
"The fighting at Utah Beach was intense, but even it was relatively tame compared to Omaha and some other D-Day beachheads – which is to say, not tame at all," Caldwell says. "But I don't want anyone to get the wrong impression here – I never saved anyone's life, never killed a man and I wasn't a hero."
Undoubtedly, many would beg to differ.